Special RRRHOA directors meeting to be held Monday November 15 at 7pm
Details

Written by

RRRHOA

Category:

Newsflash
A special director meeting will be held 11/15/2021 @ 7PM to discuss the following motions.
1) To vote to approve Christmas decorations at the Park. 
2) To hear from members of RRRHOA about adding any additional decorations in the Park.
The in-person meeting will be held at Elizabeth Lonnquist's home or can be attended remotely
via Zoom. (Zoom link to be provided)
RRRHOA Board
Mountain Lion(s) Spotted in 3R Ranch area
Details

Written by

RRRHOA

Category:

Newsflash
Early morning on 9/20/2021... Video courtesy of the Pheteplace's
No October Special Elections
Details

Written by

RRRHOA

Category:

Newsflash
No October special elections will be held on Oct. 4th. 
Special elections will be delayed until further notice. 
RRRHOA







RRRHOA & Firewise Committee - Wildfire Evacuation Drill
Details

Written by

RRRHOA

Category:

Newsflash
Red Rock Ranch HOA and its Firewise Committee would like to encourage residents to attend the Evacuation Drill community meeting where they will have a
opportunity to sign up for the evacuation drill.
  We want to have as many residents attend the meeting as possible, AND have residents actually register to be an exercise evacuee!  Those who can't attend the meeting can still sign up online, but the community meeting is very important.  If you have questions, p
lease email

This email address is being protected from spambots. You need JavaScript enabled to view it.

.
Dear Red Rock Ranch Residents, 
You are invited to participate in a
wildfire evacuation drill
on the
morning of October 2, 2021
.  Up to 25 residents can register to participate as actual evacuees d
uring the exercise. During the exercise, you will receive first-hand experience evacuating your home in an emergency and learn valuable information you will need during a wildfire or other emergency. You will also help first responders from across the region in a valuable exercise of evacuation procedures.  P
lease join us and attend the 6PM Wednesday, September 15 community meeting at Palmer Lake Elementary Gym, 115 Upper Glenway, at 6:00 PM.  You will have an opportunity to sign-up to participate at the meeting.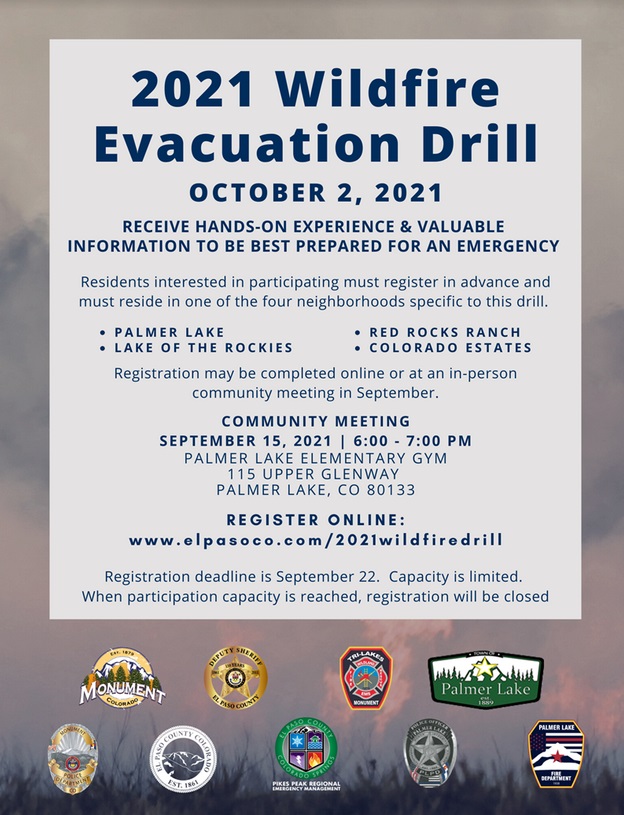 Natalie Sosa

Deputy Public Information Officer

El Paso County | Public Information Office

Office: 719.520.6250 | Cell: 719.344.4231

This email address is being protected from spambots. You need JavaScript enabled to view it.